6 Expert Tips For Riding Long Distance On A Motorcycle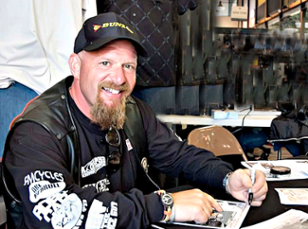 Our recent post about Dan Zinn's 14K ride sparked a conversation with pro long distance rider "Jeff the Fence Guy"  Jeffrey E. Kohn.

From talking to Jeff, we learned what it takes to ride competitively for over8600 miles in 8 days, and finish in the top three.
Jeff patiently explained the answers to our most basic long distance riding questions … how you refuel, eat, stretch your legs, and sleep … all while racing the clock, fighting fatigue, and battling the elements.
Planning a long distance ride?  For some great tips for riding long distance.
From Florida to Alaska, and everywhere in between
Jeff started riding dirt bikes and street bikes as a kid in Jersey. After a stint in the Navy, life's travels ultimately brought him to South Florida, where he discovered the sport of competitive long distance motorcycle riding.
What does that mean?  For fun, Jeff might ride a few hundred miles on a Saturday, or ride to meet up with friends in New Orleans for a weekend  (approx. 850 miles each way).  But his true passion is competitive riding over even longer distances like the annual Hoka Hey Motorcycle Challenge from Key West, Florida to Homer, Alaska.
6 Tips For Riding Long Distance Motorcycle.
You may ride for the feeling of freedom and adventure, or the camaraderie.  It may be for your commute, or a toy run for charity.  You may even be considering a 24-hour 1000 mile Iron Butt, or longer distance non-competitive adventure touring …
Whatever your reasons, If you're planning to spend long hours in the saddle, here are some pro tips to get you going.
According to Jeff, long distance riding requires these 6 elements:
Physical endurance.
You don't just wake up one day and decide to ride 1000 or 1500 miles. You have to plan for it, and work up to it.
Not surprisingly, Jeff adheres to a strict physical training regimen and diet, as any athlete would … in his case, hitting the gym, and yoga.
A desire to test your limits.
How long can you ride before stretching or sleep … how many miles between fuel stops?
It's not unusual to ride through the night, and end up being covered in bugs and grime after days on the road.  At it's core, this sport is about the competitive spirit to push your physical limits.
The right gear.
If packing for a trip on 4 wheels is a challenge, consider all that can happen over longer distances and multiple climates.  Then think about what you can carry on your bike.
You will need:  Base layer plus clothes, rainsuit, boots, motorcycle gloves, extra socks.  Plus: tools, cell phone, advil, food, bedroll, an auxilliary gas tank, and more …
In case you were wondering … Jeff overnights food and supplies to a checkpoint ahead of time, rides on a special Rick Mayer saddle, and gives this unexpected pro tip: wash your clothes in baby soap to lessen chafing.
An understanding of your equipment, and the road.
You need the knowledge (and tools) to handle road emergencies and mechanical breakdowns … and the experience to know how aggressively you can ride, and still stay safe.
Read More: http://www.olympiagloves.com/blog/long-distance-motorcycle-riding-tips-from-expert-rider-jeff-kohn
https://screamingthunder.com/wp-content/uploads/2017/04/jeff_kohn.png
229
308
Screaming Thunder
https://screamingthunder.com/wp-content/uploads/2023/01/logo-screaming-thunder.png
Screaming Thunder
2017-04-04 17:43:22
2023-04-04 13:52:25
6 Expert Tips For Riding Long Distance On A Motorcycle