Harleys on Dirt Gravel Roads Demand Installation of Custom Skid-Plate Protection
Harleys on Dirt Gravel Roads Demand
Installation of Custom Skid-Plate Protection!
Back in 2014, I knew I was going to ride the Hoka Hey Motorcycle Challenge from Key West, Florida to Prudhoe Bay, Alaska up the famous "Ice Truckers' Road!" The Dalton Highway is called the slope by many locals in Alaska. Almost 600 miles of dirt gravel road kicking up rocks that hit your bike from all over. The AlCan Hwy was crazy with gravel roads and construction!
World Record Holder's Advice

!
A good buddy of mine Will Barclay who set a worlds records in time from Prudhoe Bay to Key, West in 2013 informed me that I would be in need of a skid plate for the run. I am sad but happy to inform that Will's record was beaten five years later because it was another friend of mine that set the new record. He did it in 78 hrs and 48 minutes I think.   Dan Simmonds who at the time of writing this article in South Florida I find Bad Ass Dan the Man riding his German ride in Australia. I be jealous of Dan riding in Australia, but Kudos to bad ass Dan for setting the new time record.
Gravel Rocks Are Your Enemy

!
Any-hoo it seems that the brain trust at HD R&D made the under belly of our Hogs with soft aluminum. That soft aluminum can withstand some impacts, but being pelted with rocks it's going to crack sooner or later. I saw this actually happen in the 2014 Hoka Hey with Arthur Pond if my memory serves me right. Arthur if it was not you just drop me a message and I will correct this.
There was a slight rock fall from a mountain just before the brand new bike drove over the pile of stones. The front tire kicked a bunch of rocks up and the lucky winner caused the under-belly to crack thus leaking the oil it was holding at a great rate of time. He made the choice to stop the run and ship the bike home. I tried to convince him to get a welder to fix the crack but he was not listening to me that day. I had my skid plate installed and that episode convinced me that all the $$$ I invested on my custom skid plate was well spent! While I was at the top of the world I wondered where would I be without Aim Welding!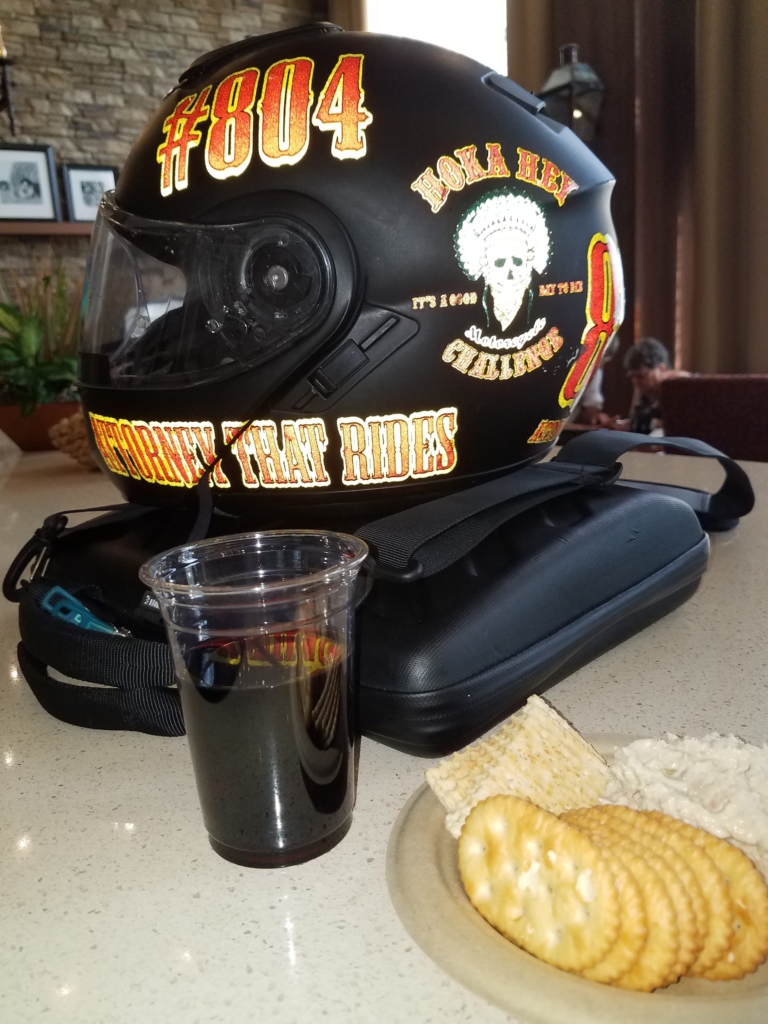 Proof is in The Puddening

!
After completing the Pan American run from Tierra De Fuego to Prudhoe Bay I can attest to the fact that southern Chile and Argentina have more gravel roads than Canada and Alaska. In fact some of their paved roads are worse than the gravel roads. The closer I rode down to the bottom of the world the worse the roads became. There was a lot of good spots but since it was the end of the tourist season and their winter was coming in the DOT was NOT making repairs. I can look back now and state that my 2014 HHMC run was a precursor to the halfway around the world run that proved me right.
Running half way around the world with a skid plate in my opinion saved my trip from expensive costs and repairs. I heard foul and rude sounds coming from the bottom of my bike when the rocks or whatever hit the bottom of the skid plate. Loud thuds that was felt in the handlebars leaving me to thank Jesus for having the wisdom to create and install my skid plate. For example, riding the Dalton Hwy the trucks would pass me at 70 MPH pelting me with a HUGE amount of gravel causing me to crouch down behind my windshield for head protection. I didn't want my face shield getting pitted. I am not saying that I was without problems but I was in a better position with the palate than without.
Once in Argentina (in the middle of nowhere) and once in Chiapas, Mexico my oil lines were cut causing a leak from the rubbing of the skid plate. I had installed on my 2013 Road King Police bike an electric fan cooled oil cooler with steel braided lines. On both occasions the hits from road debris and the hard hits from the over abundance of "speed-bumps" caused the skid plate to rupture my oil lines. I can guarantee you that when I return to the Pan Am Hwy in spring of 2019 that the lessons learned will cause me to do some preventative maintenance to avoid those problems. Below is a video of me documenting my breakdown in Tonala, Chiapas, Mexico in the middle of hurricane Carlos!
Getting Ready For April 2019

!
So with little to do I am back again with all my buddies at Aim Welding in Fort Lauderdale, FL to get me a skid plate and an AUX gas tank installed. Most important with these new water cooled heads on the tour Harley models I was not disappointed with HD R&D department where in their infinite wisdom decided to place the water pump in the lower most front of the frame where everything and their mother can hit it into disrepair.
The biggest problem that I mentioned above is the massive amounts of speed bumps. Many of these towns can't afford police so they install these high ass speed bumps that will make any car slow down to 3-4 MPH or lose their Milwaukee Eights Even when I am going granny slow the front tire goes over the bump and when it goes down the front/bottom of the bike frame bangs the speed bump HARD! That is where they Einsteins decided to place the water pump. I have heard stories that on these Milwaukee Eights that just going over a curb is enough to destroy your water pump let alone a long distance endurance run around the worlds hardest roads.
So as of today my 2019 Harley-Davidson Road Glide Ultra is in the hands of Scott at Aim Welding. They are going to make a serious hard plate to protect the water pump from being hit. That will be seperate from the skid plate that will protect the under belly of the bike with some type of easy access to reach the oil plug for fluid changes. They are also going to make an aluminum flat plate to install the 7″ Boyo LCD screen for my FLIR PathFindIR II Driver Vision Vehicle Thermal camera system that will go in the inside center of my windshield. They will make the cross-over exhaust pipe location higher to prevent the evil speed bumps from damaging. They will also do some other things that I will not share until the task is complete so they can in a video explain what they did. The most important task is protecting my under belly and the damn misplaced water pump!
Nead an Attorney That RIDES

?
If your in need an a South Florida accident attorney please call me today at 954-533-7593 and let my 13+ years experience assist you in fighting the insurance companies to recover what you deserve NOT what THEY want to give you!
https://screamingthunder.com/wp-content/uploads/2019/02/11791977_10153514421363914_796287163482953208_o.jpg
1158
2048
Screaming Thunder
https://screamingthunder.com/wp-content/uploads/2023/01/logo-screaming-thunder.png
Screaming Thunder
2019-02-02 12:10:32
2019-02-02 12:10:32
Harleys on Dirt Gravel Roads Demand Installation of Custom Skid-Plate Protection