Open Registration For the 1st Annual 30-Hour Ironman LDR Feb 17-18, 2018 (Marathon, Florida)
Open Registration For the 1st Annual 30-Hour Ironman
LDR Feb 17-18, 2018 (Marathon, Florida)
It seemed that competitive long distance motorcycle rallies have been drying up in the state of Florida due to liability concerns. The Attorney That RIDES (aka Gabe Carrera, Esq.) and Rich Anderson of the American Legion Riders Coralhead Music Festival in Marathon, Florida have stepped up for their first shot at creating a 30-Hour Ironman LDR in February 2018 when most of the country is freezing their buttocks off. Not only will there be a motorcycle LDR rally but two days of solid heavy metal and southern rock concert in the Marathon band shell.
The LDR community is a small niche of motorcycle riders/bikers that ride as many miles as they can. These are not your normal bar-to-bar type bikers. These folks, both men and women riders, will all ride 700 miles to meet up for lunch and then ride back home to work the next day. One of the most basic runs for these mile hungry kooks is 1,000 miles in less than 24-hours. The Attorney That RIDES of Fort Lauderdale, FL boasts that he can ride 1,000 in 17-18 hours depending on bathroom breaks. Most people that register for this 30-Hour Ironman Run can expect to rack up 700-1,300 miles so if your hungry to go riding then this is for you.
The 1st Annual 30-Hour Ironman LDR Challenge's "KSU" (kick-stand-up), is Saturday, February 17, 2018 @ 8 AM; and finishes on Sunday, February 18, 2018, at 1:00 PM. The Attorney That RIDES stresses that this is not a race, but rather a test of planning, preparation, strategy, tactics, riding skill, and especially endurance. All Challengers will start from the American Legion, Post 154 located at: 4115 Overseas Hwy, Marathon, Florida 33050, and return to the same address. THIS IS A RAIN OR SHINE CHALLENGE SO COME PREPARED!
CHARITY EVENT TO BENEFIT HURRICANE VICTIMS:
The registration entry fee is $100 which will benefit the 2017 Hurricane Irma Hurricane"Rebuild The Keys"Relief Fund through the Coral Head Music Festival in Marathon Key Florida. Your $100 entry fee is TAX DEDUCTIBLE! Please understand that if you can't make the start line, your $100 will go to the Charity with no refunds. Anyone over the age of 18 with a valid motorcycle license and proof of insurance can join this challenge. The Attorney That RIDES welcomes every make & model of motorcycles to the challenge. In fact, the "friendly" competition between Harley, Victory, Indian, BMW, Honda, Kawasaki, Suzuki, Yamaha, etc is greatly encouraged.
This event will benefit the "Rebuild The Keys" Fund to provide much needed building materials to residents of the Keys to repair their homes.  The Concert is picking up where the greedy insurance companies and FEMA left off. "
The "Rebuilding The Keys" Relief fund is a fund that is set up by the American Legion Riders of Post 154, Marathon. ​This fund is in conjunction with the Coral Head MusicFest and the proceeds from the concert series that would normally support their primary charity, Project: VetRelief, will go directly to obtaining much needed building supplies for residents of the Florida Keys. The 'Rebuild The Keys" fund will be supplying gift cards from major home improvement centers and lumber yards to provide them with the supplies, tools, and household essentials necessary for proper living conditions in their homes. The funds will NOT go to homes used for vacation rental purposes.
​
"This is Not a Race, But Rather a Test of Planning, Preparation, Strategy, Tactics, Riding Skill, and especially Endurance!"
This is a long distance endurance motorcycle challenge where the challengers are offered a map of points of interest (POI's) to visit while safely riding their motorcycles in the Sunshine State of Florida under a timed deadline. Each POI is valued different according to its distance, time availability, or uniqueness. There will be opportunities to obtain bonus points.
Electronic gadgets are encouraged to be used safely for this run. The Attorney That RIDES recommends a GPS like a TomTom that is water proof. Many of the newer bikes have the navigation software in them. Bluetooth Senas, factory connected devices for phones, CB's, IPads, Smart Phones, track & call, Bluetooth and other communication devices are highly encouraged to be used. Radar detectors are allowed if the rider agrees that he/she will not surpass the posted speed limits, and declare that it is for entertainment purposes only. Any other electronic devices that can be installed on motorcycle that is lawful within the State of Florida are also allowed.
The 30-Hour Ironman LDR has set up a FAQ page that explains the rally and rules on the Attorney That RIDES website. This run is for novices and experts alike! For more information just click on the button below.
The goal of the challenge is to strategically obtain as many POI points as possible and returning to the City of Marathon with a gas receipt dated 1:00 PM or earlier. There will be trophies awarded for different category winners. Catagories include, but are not limited to, 1st, 2nd, and 3rd place, most miles, and least miles among the few. The trophies shall be awarded at the CORAL HEAD MUSIC FEST in Marathon in front of the thousands of concert attendees.
How does this scavenger hunt style points system work in the 30-Hour Ironman Challenge?
Each Challenger will be emailed an informational packet of points of interests with its point value designation, locations (physical, and Longitude & Latitude), and a sample pic of the POI with a bike displaying how you should take your pic for the points. There will be a crap load POIs that you can select from. Basically it is up to you to create your own route. While the route is simple, using a GPS will simplify following the route you created, and finding the required POIs within the designated locations. There will be more POIs than you can visit within the 30-hour period so calculate and choose wisely.
​You will have to choose the POIs that you believe you can reach within the 30-hours, remember you have to return to Marathon before 1:00 PM Sunday, February 18, 2018 with a Marathon, FL gas receipt stating the address, date and time you got the gas. If your cutting it close just pump $1.00 then get the receipt from the pump. If the pump is broke or out of paper you MUST get a register receipt with the time, date, and address, or safely ride to a different gas station for a receipt on or before 1:00 PM.
* * THE COMPUTER TIME STAMP ON YOUR GAS RECEIPT SHALL BE YOUR OFFICIAL ENDING TIME * *
Below you will find some POI point pics that Gabe the Attorney That Rides took for the Tour of Honor motorcycle run that is similar in nature. You run up to the POI, pull out your flag, take the pic, get back on the bike (after putting flag away) and haul ass to the next POI for points. Challenger with the most points wins!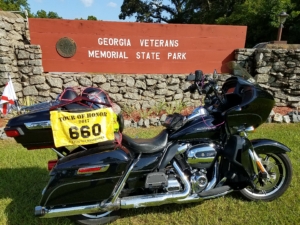 Can participants have a passenger on the back of their scoot during the Challenge?
Yes … it is allowed, but both Challengers MUST register, sign release, and show proof of insurance coverage. Its still $100 per bike but designated passengers cannot share in the riding of the registered motorcycle. The designated passenger is a passenger only. There are no additional entry fees for passengers.
So bring along whomever you would like and score your points for a taste on pure endurance! Anyone seen violating this rule will be disqualified at the finish line. Anyone accusing a participant must have proof of violation. That includes, but not limited to pics, video, or two or more independent witnesses of the violation. The Attorney That RIDES aka Gabe Carrera, Esq. has the final decision so be nice to him. Besides…..why would you wanna be caught riding bitch sleeping while your ole lady is hauling your ass down the road?
https://screamingthunder.com/wp-content/uploads/2017/12/26056142_1666549596699753_5752189889830628037_n.jpg
464
915
Screaming Thunder
https://screamingthunder.com/wp-content/uploads/2023/01/logo-screaming-thunder.png
Screaming Thunder
2017-12-30 20:07:21
2023-07-05 12:24:57
Open Registration For the 1st Annual 30-Hour Ironman LDR Feb 17-18, 2018 (Marathon, Florida)