24th Annual South Florida Tattoo Expo is This Weekend!
24th Annual South Florida Tattoo Expo is This Weekend!

Well it looks like it's that time again with the 24th Annual South Florida Tattoo Expo gearing up this weekend at the Marriott in Coral Springs Florida. 8/9-8/11/2019, at the Coral Springs Marriott. Come check out over 150 AMAZING tattoo artists, South Florida's Largest Tattoo Contest, 50 retail/service/supply vendors, 10 LIVE bands, freaky side shows, sexy fetish shows, hot bod contest, open car and truck show …. and so much more!!
Gabe and three fingers went down and set up the booth for the attorney that rides inside the Marriott Hotel. Coming inside was great because it was very cold compared to the outside where it was extremely humid. Gabe invites everybody to come on down and have some fun while helping raise money for Joe DiMaggio's Children's Hospital. Gabe started walking around with his new camera and he found Miguel Valentine of INK Addiction Inc. and decided to do a quick promo video to get more people to come down to the tattoo Expo.
Many of the old friends and new vendors were pounding away strapping things down setting up banners in their wares to welcome South Florida this Friday, Saturday, and Sunday, May 9 through the 11th with doors opening at noon Friday, August 9, 2019.
There will be hundreds of amazing artists and vendors from all over the country, a HUGE Tattoo Contest, live Fetish AND Burlesque Shows, Wet AND Frozen T-Shirt Contests, the "Summers Largest Car/Truck and Bike Show" on Sunday, LIVE Music all weekend, the 20 Penny Circus Show as seen on "Ripley's Believe it or Not", celebrity guest appearances and more – so you don't want to miss it!
Below you will see a video for the 22nd annual tattoo Expo in 2017 promoting the event.
So if you're not doing anything this weekend and the heat is bothering you bring in over down because we can have live bands this can be great vendors awesome food and all the regular suspects are to be running around the Marriott AC cooled hotel.
Remember, this Expo benefits the James Jr. Fund and Joe DiMaggio Children's Hospital, so come out and support a good cause while having a great time!
Admission Information 
TICKETS ONLY SOLD AT SHOW
​

FRIDAY (1 day) $20.00


​

SATURDAY (1 day)$25.00
SUNDAY (1 day) $20.00
WEEKEND $40.00
Expo Hours:
12 Noon – 1am Friday
12 Noon – 1am Saturday
12 Noon – 7pm Sunday
**No one under 16 admitted without an adult
No one under 18 will be tattooed or pierced without parent or guardian's consent (ID required!)
Adult themed event, parental discretion is advised.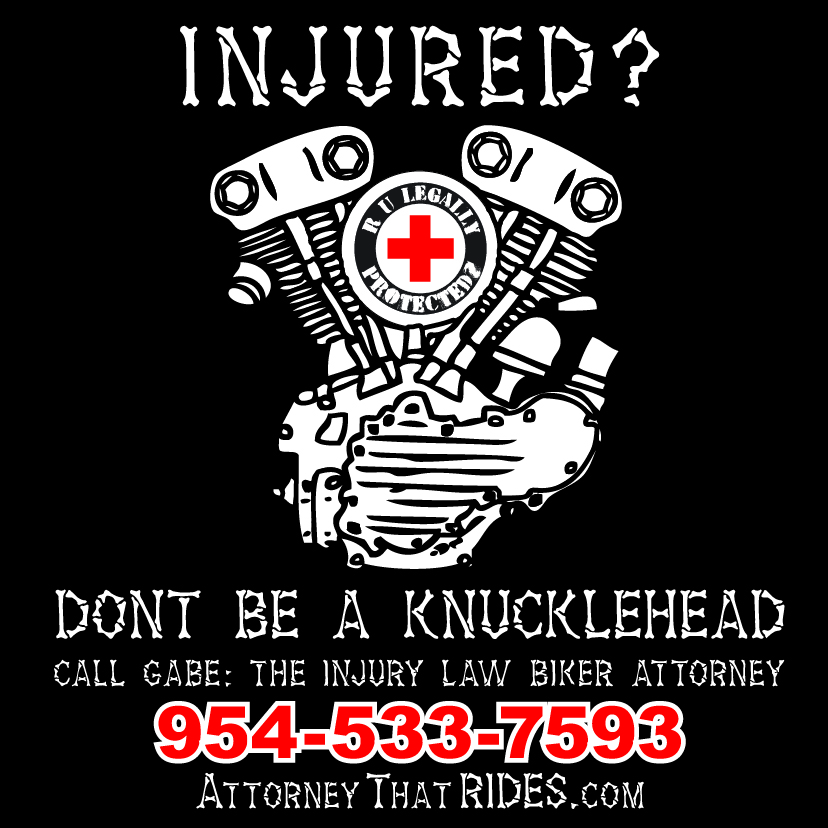 I work hard and long hours for my client's claims on their injury cases. Whether its an auto or motorcycle accident, slip & Fall, or you incur an injury that was NOT your fault call me…. Attorney Gabe Carrera @ 954-533-7593
I want to be your Abogado (Attorney)!
OFFICE LOCATION:
1600 West State Road 84, Suite B,
Fort lauderdale, FL 33315
https://screamingthunder.com/wp-content/uploads/2019/08/DSC_0442-scaled-1.jpg
1709
2560
Screaming Thunder
https://screamingthunder.com/wp-content/uploads/2023/01/logo-screaming-thunder.png
Screaming Thunder
2019-08-08 21:45:52
2023-06-29 11:48:02
24th Annual South Florida Tattoo Expo is This Weekend!